Astrology Compatibility Chart Reports > Natal Chart/Horoscope Analysis by Date of Birth
Astrology Compatibility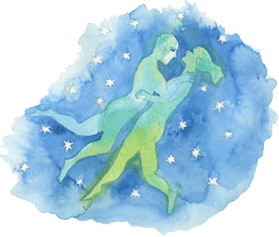 Looking for a personal astrology compatibility chart reading based on your date of birth, time and place? Astrology compatibility or affinity between people, also known as synastry, is the branch of astrology that deals with the study of relationships. The study is based on the distribution of a couples energy in their individual and combined astrological charts also known as a birth chart, natal chart or horoscope. How the planet positions, signs and houses connect and relate are analyzed to show how compatible they are astrologically.
How to Order
Please select from Astrology Yard's range of astrology compatibility chart reports below. They including; Marriage - suitable if you are married, considering marriage or are match making, Relationship Synastry - suitable if you are interested in dating or involved with someone & People - suitable if you interested in your general astrology compatibility with family, friends, colleagues, partners & lovers. Payment is by secure payment method Paypal.
Astrology Report Delivery
Astrology compatibility reports are delivered to your inbox within 24 hours of order placement and are in web and PDF format. They are ideal for personal guidance or that special gift for a special occasion such as weddings, anniversaries & valentines. All we need are the birth details and email address and we will send a personalised astrology report to them directly.
Natal Astrology
Astrology compatibility chart reports are full, personalised, illustrated, astrological interpretations written by Stephanie Johnson, Astrologer & CEO of Esoteric Technologies pty Ltd - a world leader in natal astrology software. Each analysis reading includes an astrological chart, also known as a horoscope, birth chart or natal chart, showing the planets in the zodiac signs at your date of birth, time and place as well as easy to read listings of the positions of the planets & houses in your horoscope & aspects between planets and angles.